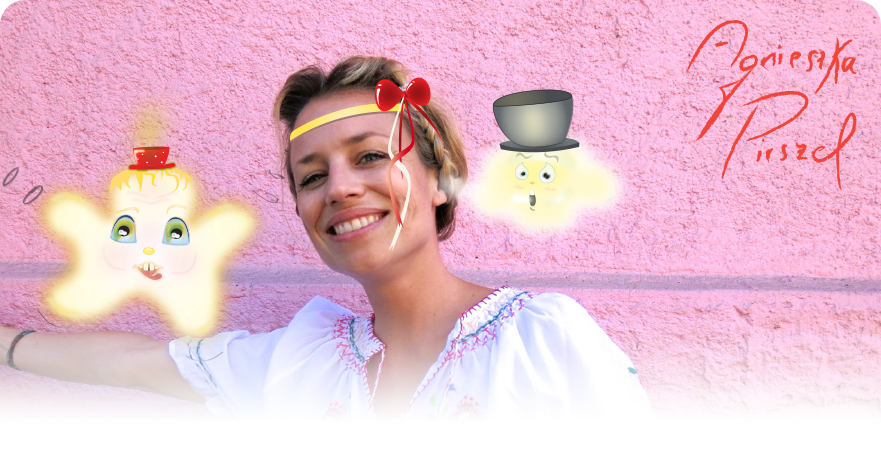 Agnieszka Pirszel born in Switzerland has her roots in the traditional Art, from his family environment and his attachment to her Polish origins and Russian origins by her grandfather. After finishing the Academy of Fine Arts and followed a specialization in scenography in 2002, she made's her debut as assist the artist scenographer Andrzej Kreutz Majewski, Boris Kudlicka and the movie director Mariusz Trelinski at the Warsaw Opera (Poland) who collaborated with the New York Metropolitan Opera for the realization of Don Giovanni by Mozart. Subsequently she was engaged at the Stadttheater (Bern - Switzerland) and independently realized after several stage sets for theaters and fashion shows.

Digital painting fascinated her since the discovery of the kawaii culture and manga led by Japan which influenced her to use the computer as an artistic tool in 2004 to enrich and give more character to her graphic universe. Staging work and Vector creation naturally combined to reflect a new manga way. Than was born AboutKika trademark. Her world and her style have found their place in the various agencies, fashion, magazines, Art toys and art event where she worked as a freelance and licensed with Hong Kong as an illustrator and creator of products.

In 2007 she created her company Madcap Creative Agency with her husband, the first Designer Toys company in Switzerland which proposed the vinyl figurine of a brand and used as promotional support for businesses. She started the production of one of the characters of her vectorial universe The Aquapods Beli, Sable and Verda are 3 octopus cushions shaped with manga style produced in Asia sold and redistributed around the world .

To make a connection with his passion for making manga characters and illustrations for children. AboutKika actively participated in an auction for the Foundation Paris Tout P'tits which collects donations for children in needs in the capital. She customised a Qee (plastic figurine ) for the Foundation which will be sold ( Top 5 sales ) at an auction at Christie's Auction House with 100 other prestigious artists. (Sonia Rykiel, Phillipe Starck, Luc Besson, De Castelbajac, JonOne, Sylvie Fleury, NadaOne...) and exhibited at Colette.

In 2015, her children's book Lullaby et le Frigo qui Chante was edited and published by the Swiss publishing house Torticollis et Freres and presented at the International Book Fair in Geneva. She collaborated with the writer Katelyn Aronson for a new book called Rainard the cloud Who Would not Cry. Part of his fluff The Aquapods was offered to Swiss Foundation SOS Enfants and Theodora Foundation to give a little bit of joy for immigrant children victims of war.

Illustrator by my work, I would like to bring more dreams, magic and colors to our daily lives.